General remarks
Each Iberogast® bottle has a built-in drop dispenser – simply hold the bottle at a 45-degree angle and shake the required number of drops into a small glass of water (or other liquid of your choice, e.g. juice or warm tea) and take it, 3 times a day. Shake the bottle before use. 
Recommended dose of Iberogast
®
Adults & children over 13 years: 20 drops (1 mL), 3 times a day

Children 6–12 years: 15 drops (0.75 mL), 3 times a day

Children 3–5 years: 10 drops (0.5 mL), 3 times a day
If your symptoms persist, see your healthcare professional.
Before you take Iberogast
®
Always refer to the product label before taking Iberogast®.
The use of Iberogast® during pregnancy and lactation has not been fully studied and should only be used in these circumstances under the guidance of a healthcare professional.
A decision must be made whether to discontinue breast-feeding or to discontinue/abstain from Iberogast® therapy taking into account the benefit of breast feeding for the child and the benefit of therapy for the woman.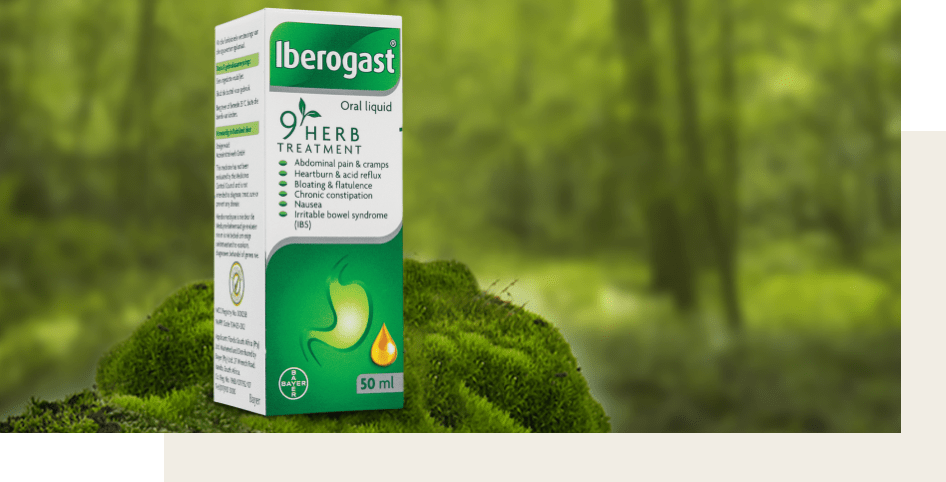 Iberogast
®
Disturbances in the gastrointestinal tract are usually not only extremely unpleasant and associated with numerous complaints, they often make a normal everyday life even harder. It's good that there is Iberogast®: The combination of nine medicinal plants targets both the underlying causes and the annoying symptoms.