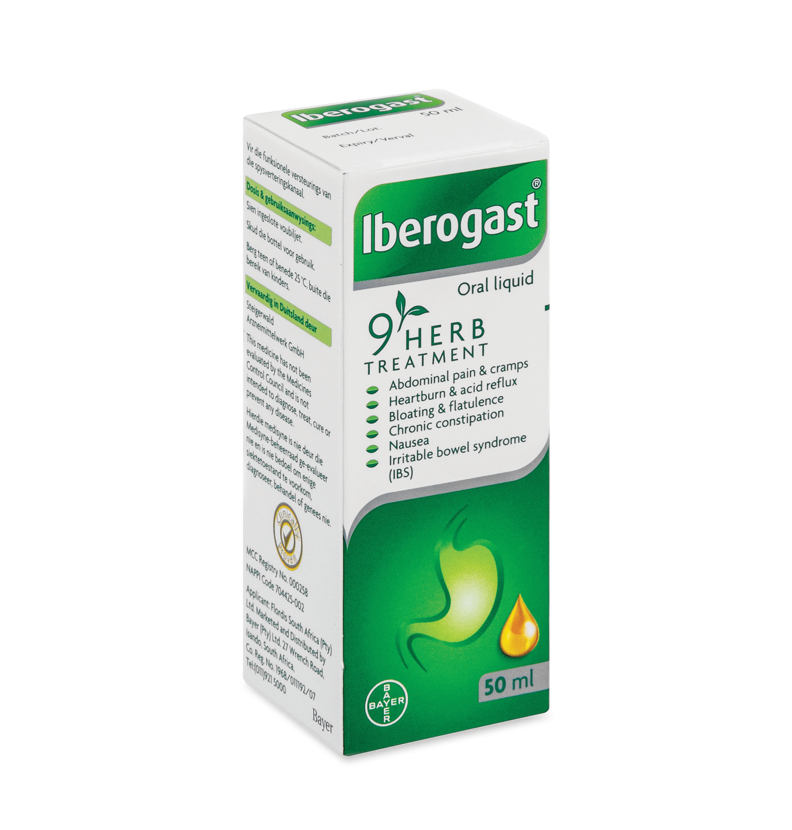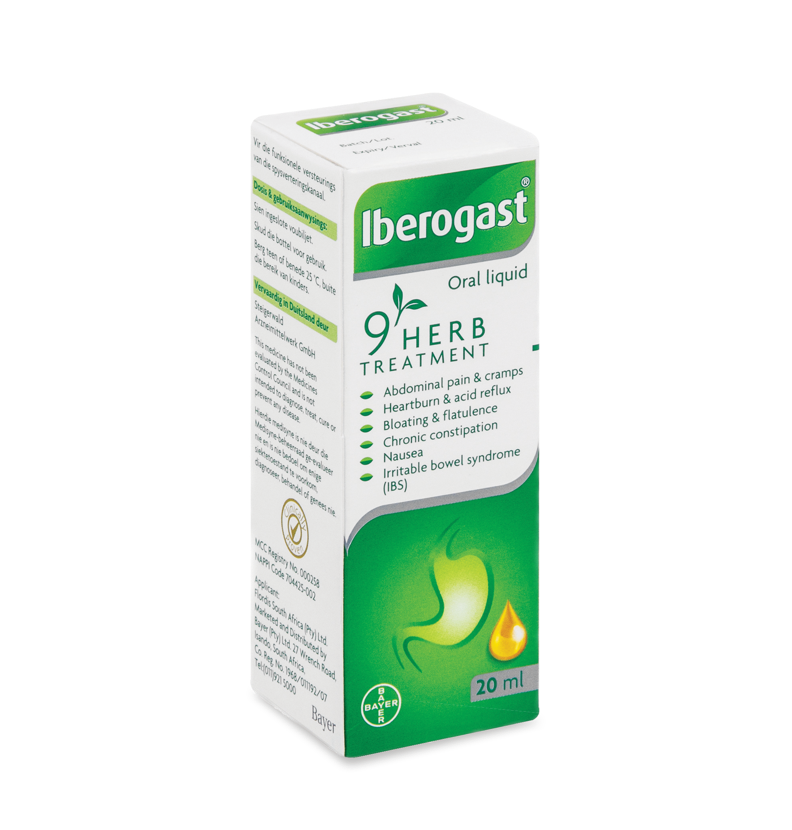 Iberogast
®
How to feel like yourself again?
Functional digestive symptoms can be caused by different malfunctions of the gastrointestinal tract, so some people can experience several different symptoms at once. Iberogast is a fast solution that contains herbs for multiple digestive symptoms.
Iberogast® has a long history. It was researched and developed by scientists in the late 1950s, and first launched in Germany in the early 1960s. Iberogast has provided sufferers with fast-acting, effective relief for over 50 years and is now one of the leading gastrointestinal medicines in Germany and available in many countries of the world.3
What's in Iberogast®?
The nine medicinal herbs you'll find in Iberogast® are:
Bitter candytuft

Angelica

Chamomile

Caraway

St. Mary's thistle

Lemon balm

Peppermint

Greater celandine

Liquorice
1 solution for 6 digestive symptoms
Iberogast® fights six digestive symptoms at the same time. Abdominal Pain, Nausea, Bloating, Cramps, Heaviness and flatulence.
Usage instructions
Take Iberogast® 3 times a day. It can be diluted in water, your favorite juice or be taken as is. Iberogast® can also be taken for as long as needed*, depending on the severity and duration of digestive symptoms.
*Consult a physician if the complaints persist or if the success expected from the administration is not achieved within 7 days.
Fast and Effective
Iberogast® is fast-acting and proven to relieve functional digestive symptoms Iberogast's liquid formulation starts working within just 15-30 minutes.
9 herbal extracts
By harnessing the power of nature, Iberogast® contains 9 herbal extracts and is fast-acting providing effective relief from multiple digestive symptoms so you get back to your life with fewer interruptions.
Multi- targeted action
Iberogast® relaxes the muscles that stop the stomach from accommodating food and, at the same time, it also stimulates the muscles that are too weak to move the food towards the intestine.